Moving and Delivery Services in Syracuse, NY

We are focused on providing customized storage solutions to meet your individual needs at Managed Heated Storage, and we understand that includes assisting with the moving and delivery of your belongings. 
Shipping and Receiving Services
Receiving

-  You can leave the receiving of your incoming items to us. We will unload your goods from the trucks and place them into your dedicated storage area. There's no need for you to take time out of your busy day to be on hand.

Shipping

-  The same applies to getting your items out of storage when that time arrives. All you'll need to do is arrange for the requisite transportation vehicle and we'll do the rest.

Any Size or Weight

- We're fully equipped with motorized forklifts and pallet jacks to handle any size or weight of cargo and crates. Even cranes are available for heavy machinery storage if required.  Learn more about our heavy equipment storage facilities.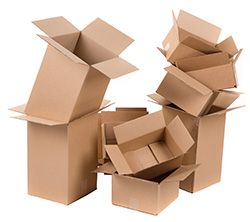 Packing, Moving and Storage Supplies 
We have a variety of packing, moving and storage supplies available for sale or lease, including the following:
Boxes, Standard & Custom Crates
Packing Paper & Tape 
Moving Blankets
Containers and Supplies Pricing Information
Description
Size (Boxes:Cf)*
Cost ($)
Packing ($)
Book Box
1.51
1.50
2.75
Medium Box
3.10
2.25
3.75
Large Box
4.50
2.55
5.25
Dish Barrel Box
5.25
12.50
16.75
Wardrobe Box (w/bar)
18.00
14.50
3.75
Mirror Carton
n/a
0.00
Mattress Carton
Single
11.50
Double
14.95
Queen
16.90
King
Packing Paper
25 lbs.
22.50
n/a
Packing Tape
one roll
3.00
"PACKING" figures (column 4) vary according to box size and represent our service fee (per box), should you choose to have us pack some or all of your boxes. (*CF = CUBIC FEET)